The 2019 Japan-Taiwan Sabo Joint Conference
Japan, Tokyo
December 8 to 14, 2019
From December 8 to 14, 2019, 13 participants from Taiwan, Soil and Water Conservation Bureau Council of Agriculture, Chinese Soil and Water Conservation Society, Taiwan Disaster Prevention Society and Taiwan Disaster Prevention Society visited Japan and the 2019 Japan-Taiwan Sabo Joint Research Conference was held.
On December 9, 2019, The Symposium was held at Sabo Kaikan in Tokyo. In commemoration of the 30th anniversary of the Japan-Taiwan Sabo exchange, Mr. Okamoto, Vice President of the Japan Sabo Association, gave a commemorative lecture titled "Celebrating the 30th Anniversary of the Japan-Taiwan Sabo Exchange." Since then, we presented the latest measures and knowledge of three Japanese topics and three Taiwanese ones, and question-and-answer sessions with brisk opinion exchange were held.
After a Meeting at Sabo Kaikan, we moved to Hiroshima Prefecture on December 10. We visited the Momiji Valley River Dam in Miyajima, the 2014 disaster site in the Yagi area of Hiroshima City, the 2018 heavy rain disaster site in Kumano-cho, the Dodogawa Sand Resevoir in Fukuyama City, and the tidal storm barrier in Tomonoura on December 11 to 12 .
On December 13, we visited the Tameike Project in Manno Pond in Kagawa Prefecture.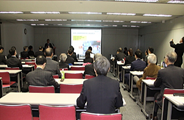 The 2019 Japan-Taiwan Sabo Joint Research Symposium (Sabo Kaikan, Tokyo)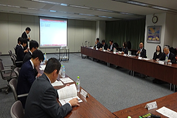 Scene of the Japan-Taiwan Sabo Exchange Meeting(Sabo Kaikan, Tokyo)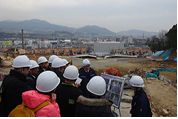 Site inspection (Yagi area, Hiroshima City)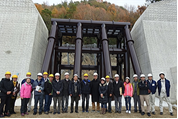 Site inspection (Kawasumi area,Kumano-machi, Hiroshima Pref.)